The Rocky Mountain ADA Center serves Colorado, Utah, Montana, Wyoming, North Dakota, and South Dakota.
---
The Rocky Mountain ADA Center (RMADA) is operated by Meeting the Challenge, Inc., a for-profit small business located in Colorado Springs, Colorado. In addition to its core services—technical assistance (TA), training, outreach, and materials dissemination—the Center offers customized extended services, such as:
ADA policy and procedure reviews;
Transportation system accessibility consulting;
Facility accessibility audits;
Self-evaluations and transition plans;
Architectural plan reviews; and
Park and recreation accessibility assessments.
Examples of assistance we provided:
assessing physical barriers;
improving communication systems;
training employees in disability awareness; and
making recommendations to overcome ADA infractions.
Additionally, the Center is involved with the ADA National Network and its projects.
Through all of these efforts, the Center helps individuals, institutions and businesses understand their rights and responsibilities under the ADA, and supports implementation of the ADA.
Access Reviews of Title II Programs and Title III Services to Support ADA Implementation
Over the past year, MTC witnessed an increased interest by businesses (Title III entities) looking to improve access to their goods and services. Additionally, MTC continues to receive requests from state and local government agencies (Title II entities) for advice and direction on the best ways to meet their obligations under the ADA. In response, MTC puts considerably effort into establishing and building collaborative relationships with these Title II and Title III entities to help them fully integrate the ADA.
RMADA is pleased to report that the full circle of technical assistance to implementation to lifetime relationships has been realized many times over.
ADA Coordinator Mini Camps
Over the past year, RMADA visited each state in its six-state region, offering a two-day ADA Mini Camp. Affectionately named the "ADA Boot Camp", this two-day training activity was geared towards the ADA Coordinator (whether officially named to that position or not). RMADA presented sessions on everything from Disability Etiquette to Document/Web Accessibility. While the training was intense, and designed as roll-up your sleeves and dive in sessions, participants walked away with valuable information on accessibility and resources for future needs.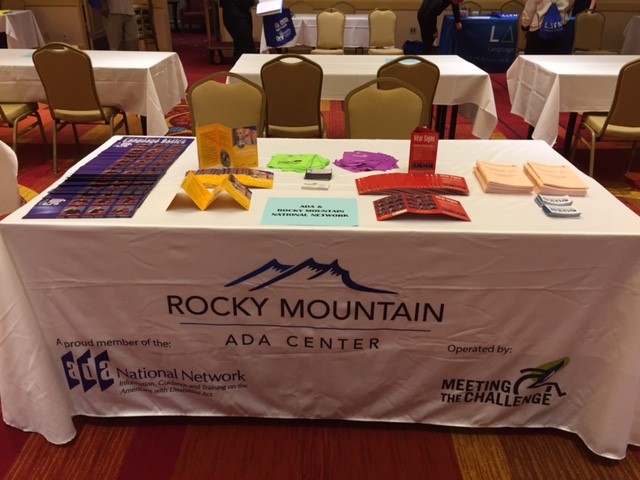 Law Enforcement Effective Communication Training
RMADA continued to work closely with local organizations to educate and learn from law enforcement personnel who routinely interact with persons who are deaf, hard of hearing, or deaf/blind.
The organizations are:
Colorado Commission for the Deaf and Hard of Hearing;
Deaf Overcoming Violence through Education.
RMADA provides training to various law enforcement personnel that enables them to apply ADA information in day-to-day contacts. Additionally, RMADA sits on working panels with law enforcement personnel and legislators to maintain ongoing dialogues about ways to improve communication amongst the various groups.
Relationship Building with the Media
Believing that one of the greatest tools for mass information dissemination is the media, RMADA has spent considerable effort over the past year building relationships with media groups around our region and the country. RMADA worked with media groups in television, print, radio, web, and social media to reach millions of people across the country (and some internationally) about rights and responsibilities under the ADA and the resources available from the regional ADA Centers. Many times, RMADA collaborates with other regional Centers to respond to media requests. The response from the media has been overwhelmingly supportive, and RMADA often receives requests for comments and resources on stories related to the ADA.