The Southeast ADA Center serves Alabama, Florida, Georgia, Kentucky, Mississippi, North Carolina, South Carolina, and Tennessee.
---
More than eight million individuals with disabilities call the Southeast Region home. Our diverse region covers eight states and includes large urban centers (Atlanta, GA; Miami, FL) as well as the rural areas of northern Mississippi and eastern Kentucky. To meet the needs of stakeholders throughout our region, the Southeast ADA Center funds an eight-state Affiliate Network. Their mission is to promote voluntary compliance with the ADA through outreach, training and dissemination of accurate ADA information to individuals, businesses, employers and their state and local governments. This profile highlights Southeast ADA Center projects and products that make communities in the Southeast Region more accessible and welcoming to people with disabilities. 
Access to Financial Services
The Southeast ADA Center will conduct new research examining the accessibility of financial services at physical and online sites.. The Center will collaborate with individuals with disabilities, banks and credit unions to gain a better understanding of gaps in accessibility. Three studies will examine financial accessibility as an aspect of community inclusion and participation and will address a critical need for information on how financial institutions provide accessible services for people with disabilities. The research will help financial institutions address these issues and educate the public on possible solutions.
Starting the Conversation with a Business:  A Leader's Guide
Working with the North Carolina Council on Developmental Disabilities, the Center's state affiliate, self-advocates developed the guide Starting the Conversation with a Business: A Leader's Guide. Written in plain language, customers with disabilities can use this to give a business feedback about its accessibility. This is not an assessment of ADA compliance. Instead, it is a tool to start a conversation about one or two steps a business could take to make their business more accessible to customers with disabilities. Using this Guide, a team of people with disabilities can offer a business: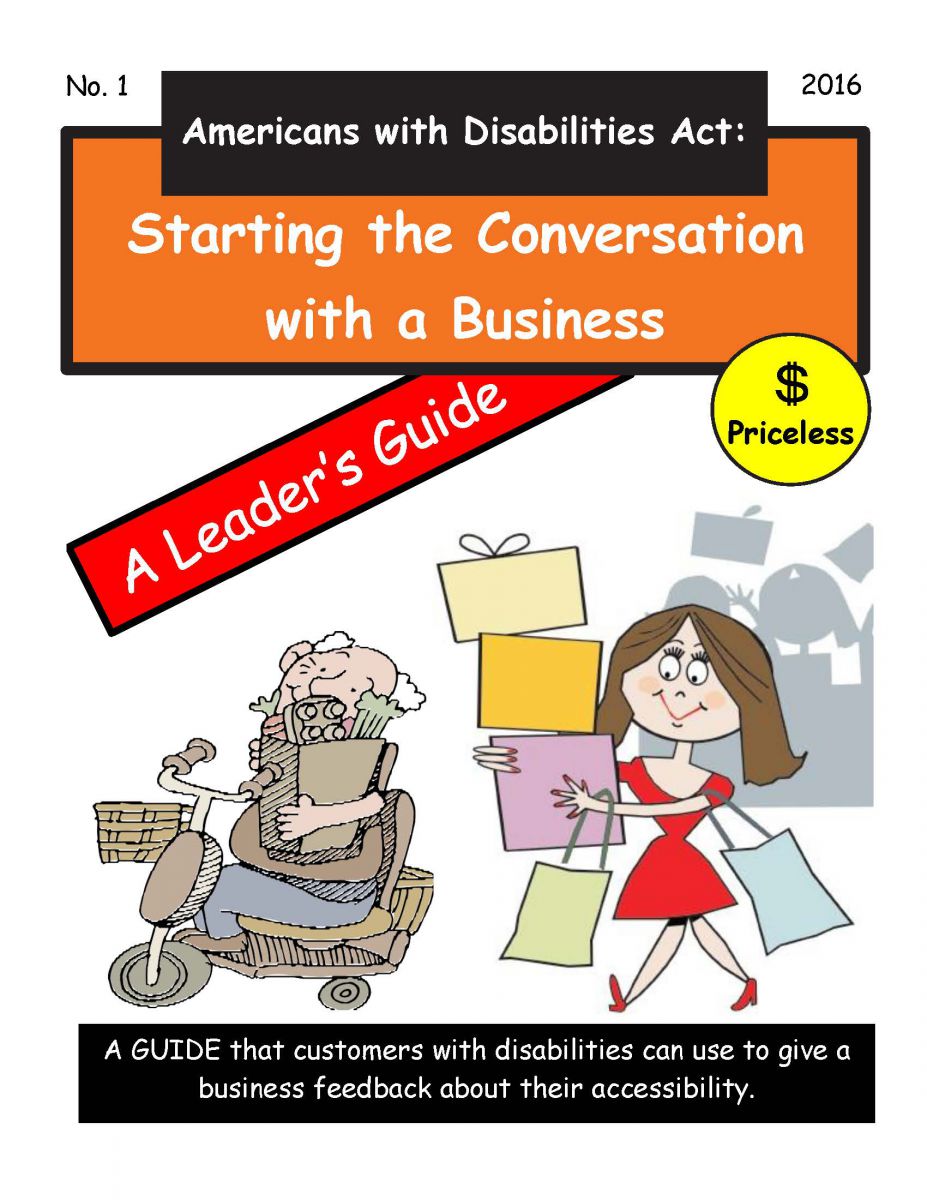 Specific information on the Americans with Disabilities Act (ADA);
Feedback on making their business more accessible;
Follow-up visits to track changes and improvements; and
Resources such as the ADA National Network's toll free phone number and website so that businesses can learn more about their ADA responsibilities.
Community Access
Since 2006, trained volunteers with and without disabilities and staff from state affiliates in Alabama, Georgia, North Carolina, and Mississippi have conducted ADA accessibility surveys of local businesses and government entities. The surveys review facility access, accessible parking, and access to recreation. Surveyors encourage voluntary removal of barriers to increase accessibility for people with disabilities moving from group and nursing homes back to their communities. The surveys are confidential and do not measure or report ADA compliance.
ADA Live!
"ADA Live!," the Center's internet-based radio station (www.blogtalkradio.com/wada-se), airs from 1:00 - 1:30 pm Eastern time on the first Wednesday of each month. Regional and national experts provide accurate, up-to-date information on a range of issues, attracting an average of 700 listeners each month. ADA Live's fully accessible website, www.adalive.org, allows listeners to post questions and download resources for all archived shows.
ADA Training and Information
The Southeast ADA Center developed and maintains three fully accessible ADA web courses. These ADA National Network courses are free and may be taken at any time.
The ADA Basic Building Blocks Course (http://adabasics.org), the only comprehensive online course covering all titles of the ADA, has been taken by 43,115 participants. Participants who meet course requirements are eligible for CRCC and CEU continuing education credits.
At Your Service: Welcoming Customers with Disabilities (www.wiawebcourse.org) provides participants, particularly frontline staff, with the ADA information and background they need to serve people with disabilities effectively and courteously. It has been taken by 24,017 individuals. Participants who meet course requirements are eligible for CRCC and CEU continuing education credits.
ADA Title II Tutorial: An Overview of Title II of the Americans with Disabilities Act (http://adatitle2.org) is designed to provide ADA Coordinators, state and local government staff, and others with the basic principles and core concepts of Title II of the Americans with Disabilities Act of 1990 (ADA) and the Americans with Disabilities Amendments Act (ADAAA). To date, the course has been completed by 22,796 individuals.
Access to Voting
The Southeast ADA Center's Tennessee State Affiliate, the Tennessee Disability Coalition, collaborated with the Tennessee Secretary of State and Disability Rights Tennessee to develop a video, Accessible Elections for Tennessee Voters. It demonstrates an accessible polling place and voting process for Tennesseans with all types of disabilities. Posted at the Tennessee Disability Coalition's YouTube channel at http://youtu.be/k_8Bc7RXYaw and http://www.tndisability.org/article/accessible-elections-tennessee-voters, it is an educational resource for election officials, poll workers, and the disability community. 
National Partnerships
The Southeast ADA Center has entered into several national partnerships to ensure that direct service professionals working with people with disabilities have accurate information on ADA Title I (Employment) rights and responsibilities. Our partners include APSE (Association of People Supporting Employment First), Best Buddies International's Best Buddies Jobs program, and America's Job Exchange, a national resource for linking employers with job seekers. Our partnership with America's Job Exchange includes national webinars on ADA Title I topics for human resources professionals and articles for their newsletter.