The Pacific ADA Center serves Arizona, California, Hawaii, Nevada, and the Pacific Basin Territories of American Samoa, Guam, and the Northern Mariana Islands.
---
This region covers almost 1 million square miles of land mass and has a population of 50 million. In light of the large geographic area—as well as the ethnic, cultural and language diversity—the Pacific ADA Center's staff and large network of affiliates play a significant role in reaching the region's stakeholders.
Customized ADA Training
Throughout 2015, the Pacific ADA Center provided in-depth ADA training to over 1,500 individuals at numerous large businesses and professional organizations.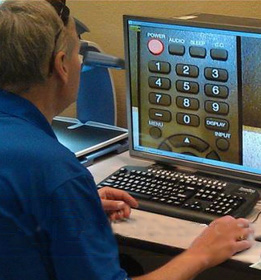 Topics explored in these trainings include reasonable accommodation in employment, disability awareness and etiquette, service animals, academic adjustments, effective communication, movie theater captioning and audio description services, and the 2010 ADA Accessibility Standards.
Our center provided training to:
American Library Association;
American Institute of Architects Chapters in Region 9;
State and local entities throughout the region;
Chambers of Commerce;
Major hotels;
Movie and performance theaters;
Individuals with disabilities, family members and professionals;
San Jose and Los Angeles Abilities Expo Fairs and other professional workshops;
Architects, ADA Coordinators, educators, and consumer advocates.
Emergency Preparedness       

Emergencies and disasters can be particularly of concern to people with disabilities.  Successful outcomes for people with disabilities in disasters will depend on how inclusive the plans are.
The Pacific ADA Center is leading the efforts to disseminate information about emergency preparedness and management on behalf of the ADA National Network.  A major part of this has been designing and hosting the Emergency Management and Preparedness-Inclusion of Persons with Disabilities webinar series.  The free webinars focus on key strategies and approaches at federal, state, and local levels for including people with disabilities in emergency management and preparedness.  
In October 2015, the Pacific ADA Center worked with the Federal Emergency Management Agency's (FEMA) Office of Disability Inclusion and Coordination (ODIC), the State of California Office of Emergency Services, and the City of Oakland to host the Great American Shake Out to prepare for earthquakes in the region.  
The Center offers monthly ADA National Network Learning webinars on emergency preparedness and management and "FEMA Promising Practices". Examples of webinars offered in 2015 include:
Whole Community Inclusion Emergency Preparedness Planning at the State Level;
Closing Gaps in Local Emergency Plans and Grassroots Emergency Planning;
Preparedness Planning for People with Respiratory Issues and those with Intellectual Disabilities;
Communication Outreach and Toolkits.