On the ADA Anniversary (July 26) and throughout the year, learn about and celebrate the Americans with Disabilities Act (ADA).
- Explore & Bookmark: Publications, Videos, Resources, Training, Monthly Themes.
- Share & Connect: Events, Stories, ADA25 Celebration.
Go to: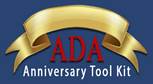 ADAanniversary.org
The ADA Anniversary Toolkit is a collaboration of the ADA National Network and ADA Legacy Project, hosted by the Southeast ADA Center. The ADA National Network participates in celebrating this landmark event as a way of bringing attention to the important work that has been done to promote equal opportunity for people with disabilities and to highlight the work that is yet to be done.
Developed by

For more information contact:

1419 Mayson Street NE, Atlanta, Georgia 30324

Phone: 1-800-949-4232 [voice/tty]

Southeast only (AL, FL, GA, KY, MS, NC, SC, TN) 404-541-9001 [voice/tty]

FAX: 404-541-9002

Web:  ADAsoutheast.org

 

Content is based on professional consensus of ADA experts and the ADA National Network.

This information product was developed under a grant from the Department of Education, NIDILRR grant number H133A110015. However, the contents do not necessarily represent the policy of the Department of Education, and you should not assume endorsement by the Federal Government.

©Copyright ADA National Network.

All Rights Reserved.

May be reproduced and distributed freely with attribution to ADA National Network (adata.org).
Visit adata.org or call 1-800-949-4232 V/TTY to contact your regional ADA Center.


May be reproduced and distributed freely with attribution to ADA National Network (www.adata.org)