The ADA National Network consists of 10 regional centers and an ADA Knowledge Translation Center. The regional centers are distributed throughout the United States to provide local assistance and foster implementation of the ADA. Funded by the National Institute on Disability and Rehabilitation Research (NIDRR), the ADA National Network provides information, guidance and training on the Americans with Disabilities Act (ADA), tailored to meet the needs of business, government and individuals at local, regional and national levels. The Network is not an enforcement or regulatory agency, but a helpful resource supporting the ADA's mission to "make it possible for everyone with a disability to live a life of freedom and equality."
The 10 regional centers along with the ADA Knowledge Translation Center, work together to develop projects and events of national significance. The National Network also actively collaborates with national partners. Each regional center also focuses on the specific needs of the residents who reside within its service area. The regional nature of the ADA National Network is critical to ensuring the network can adequately support the diverse population of ADA Stakeholders throughout the country. View the ADA National Network Profile for 2015 to learn more about the work of each region. 
To learn more about the ADA law and implementation, you can search for comprehensive ADA information, services, products, training and guidelines on the National Network website, or visit your Regional ADA National Network Center Website for information about local events and support. 
If you are writing a news release or article about the ADA National Network, please view our media kit.
Find Your Region/ADA Center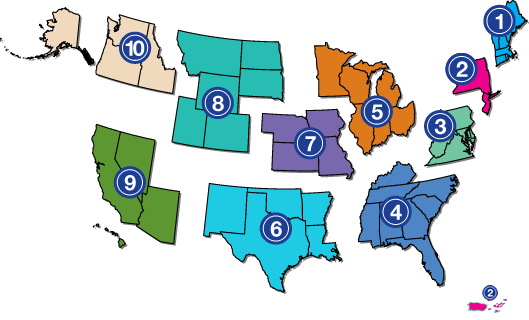 Region 1

Connecticut, Maine, Massachusetts, New Hampshire, Rhode Island, Vermont

Institute for Human Centered Design
180-200 Portland Street, Suite 1
Boston, MA 02114

Phone: 617-695-1225 (Voice/TTY/Español/Português)*
Fax: 617-482-8099
Email: ADAinfo@NewEnglandADA.org
Website: www.NewEnglandADA.org
*Spanish: Ana Julian
Portuguese: Fernanda Jordani

Region 2 

New Jersey, New York, Puerto Rico, Virgin Islands

Northeast ADA Center
Employment and Disability Institute
Cornell University: ILR School

201 Dolgen Hall
Ithaca, NY 14853

Phone: 607-255-6686 (V/TTY/Español)*
Fax: 607-255-2763
Email: northeastada@cornell.edu
Website: www.northeastada.org
*Spanish: Yessica M. Guardiola Marrero (Puerto Rico)

Region 3 

Delaware, D.C., Maryland, Pennsylvania, Virginia, West Virginia

401 North Washington Street, Suite 450
Rockville, MD 20850

Phone: 301-217-0124 (V/TTY/Español)*
Fax: 301-251-3762
Email: adainfo@transcen.org
Website: http://www.adainfo.org
*Spanish: Maynor Guillen

Region 4 

Alabama, Florida, Georgia, Kentucky, Mississippi, North Carolina, South Carolina, Tennessee

1419 Mayson Street NE
Atlanta, GA 30324

Phone: 404-541-9001 (V/TTY)
Fax: 404-541-9002
Email: ADAsoutheast@law.syr.edu
Website: http://www.adasoutheast.org

Region 5  

Illinois, Indiana, Michigan, Minnesota, Ohio, Wisconsin

University of Illinois at Chicago
Institute on Disability & Human Development (MC 728)
1640 West Roosevelt Road, Room 405
Chicago, IL 60608

Phone: 312-413-1407 (V/TTY/Español)*
Videophone: 312-767-0377**
FAX: 312-413-1856
Email: adata@adagreatlakes.org
Website: www.adagreatlakes.org
*Spanish: Ancel Montenelli
**ASL: Shannon Moutinho

Region 6 

Arkansas, Louisiana, New Mexico, Oklahoma, Texas

TIRR Memorial Hermann Research Center
1333 Moursund St.
Houston, TX 77030

Phone: 713-520-0232 (V/TTY/Español)*
Fax: 713-520-5785
Email: swdbtac@ilru.org
Website: http://www.southwestada.org
*Spanish: Diego Demaya

Region 7 

Iowa, Kansas, Missouri, Nebraska

100 Corporate Lake Drive
Columbia, MO 65203

Phone: 573-882-3600 (V/TTY)
Fax: 573-884-4925
Email: adacenter@missouri.edu
Website: http://www.gpadacenter.org/

Region 8 

Colorado, Montana, North Dakota, South Dakota, Utah, Wyoming

3630 Sinton Road, Suite 103
Colorado Springs, CO 80907

Phone: 719-444-0268 (V/TTY)
Videophone: 719-358-2460**
Fax: 719-444-0269
Email: email@adainformation.org
Website: http://www.rockymountainada.org
**ASL: Paul Simmons

Region 9 

Arizona, California, Hawaii, Nevada, Pac. Basin

555 12th Street, Suite 1030
Oakland, CA 94607-4046

Phone: 510-285-5600 (V/TTY)
Fax: 510-285-5614
Email: adatech@adapacific.org
Website: http://www.adapacific.org

Region 10 

Alaska, Idaho, Oregon, Washington

Center for Continuing Education in Rehabilitation
University of Washington
6912 220th St. SW, Suite 105
Mountlake Terrace, WA 98043

Phone: 425-248-2480 (V/TTY)
Videophone: 425-233-8913**
Fax: 425-774-9303
Email: nwadactr@uw.edu
Website: www.nwadacenter.org
**ASL: Michael Richardson

ADA Knowledge Translation Center 

University of Washington
Seattle, WA 98382
Email: adakt@uw.edu
Website: www.adakt.washington.edu